Nursery Learn ABout 'the Greedy Bee'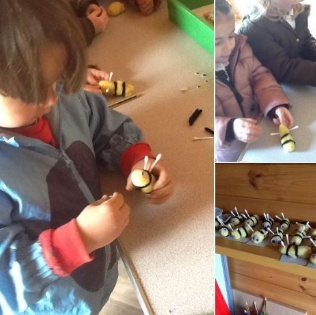 This week in nursery we have been reading the story "The Greedy Bee"
We talked about where bees live and how they have to collect pollen on their legs to take back to the hive to make the yummy honey.
We made some legs last week and pretended to collect pollen so this week we thought we would make a big greedy bumble bee just like the story. We used playdough for his body, pipe cleaners for his stripes , cotton buds for his antenna and goggly eyes.
We had lots of fun and we think they are all super cute! Do you know how bumble bees help us in the garden?