Year 6
Welcome to Year 6

Key Days in Year 6 are:
PE days will be updated following the wider reopening of school. If your child is currently attending school, please speak to the adults leading their bubble about PE days.
Please note that for the majority of our children, all learning is currently taking place online. Please visit our Remote Learning pages for more information about our school's remote learning offer and contact the year group team for more specific support.
Year 6 is the final year of KS2 and a truly memorable time in your child's primary education.
Year 6 is a key moment in your child's life; they will develop more independence, a huge amount of resilience and, most importantly, they should become very aware of who they are as both learners and as young adults.
Throughout the academic year, the Year 6 team will support the children with transitioning to their chosen secondary school. For more information, visit the Year 6 Transition page.
Like all year groups, Year 6 has government statutory schemes of learning to follow. The children will be assessed throughout and at the end of the year to see if they have reached the expected standard. In May of their Year 6, the children will complete SATs assessments which all Year 6 children sit. The Year 6 team work to ensure that these remain a focus but do not dominate the school year. To give parents more insight, the Year 6 Team will run a meeting in the January and relevant materials will be posted to this page. *
*Please note that for the academic year 2020-2021, there are no SATs assessments.
English
In their English sessions, children will use quality texts to develop their understanding of writing. They will produce extended written outcomes for a variety of purposes including writing to persuade, entertain, discuss and inform. The children will confidently follow and apply the writing process of: plan, write, edit and redraft.
In Year 6, children will read a range of different genres. They will continue to use their skills of inference of characters' motives and feelings and will think about figurative language and how it is used. They will examine why a writer has made certain choices.
Grammar is a key focus in Year 6. The children in Year 6 will continue to develop their understanding of all the grammar concepts taught throughout KS2 as well as learn new ones such as punctuating using semi-colons and colons. For more information on our English curriculum, visit our Curriculum page.
Please view our Reading Spine for Year 6 - In Year 6, the texts in our Reading Spine are used to supplement the children's 'reading diet' and will not all be used as taught texts. These include a range from picture books, poetry to classical texts.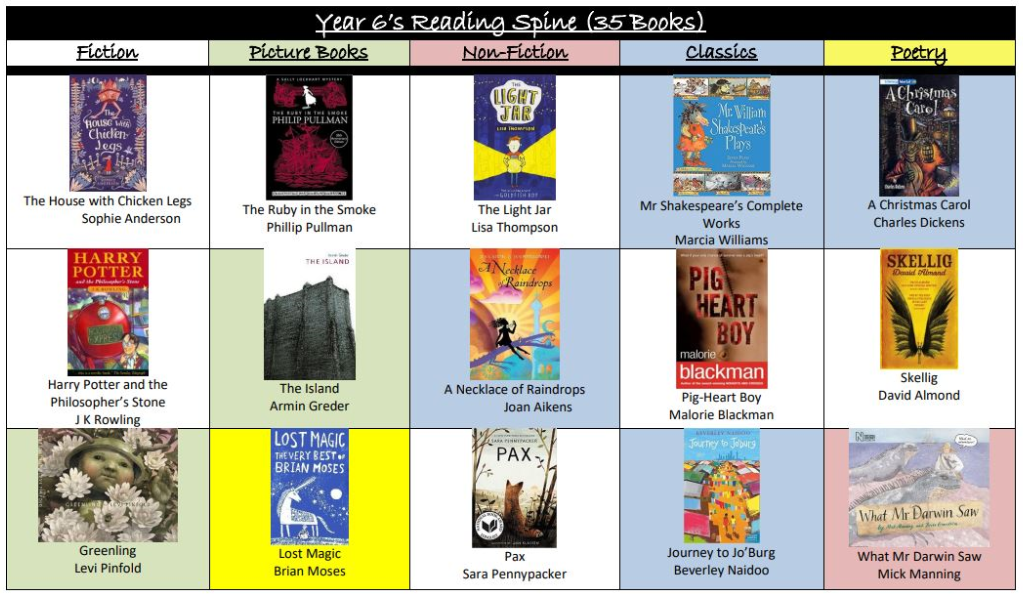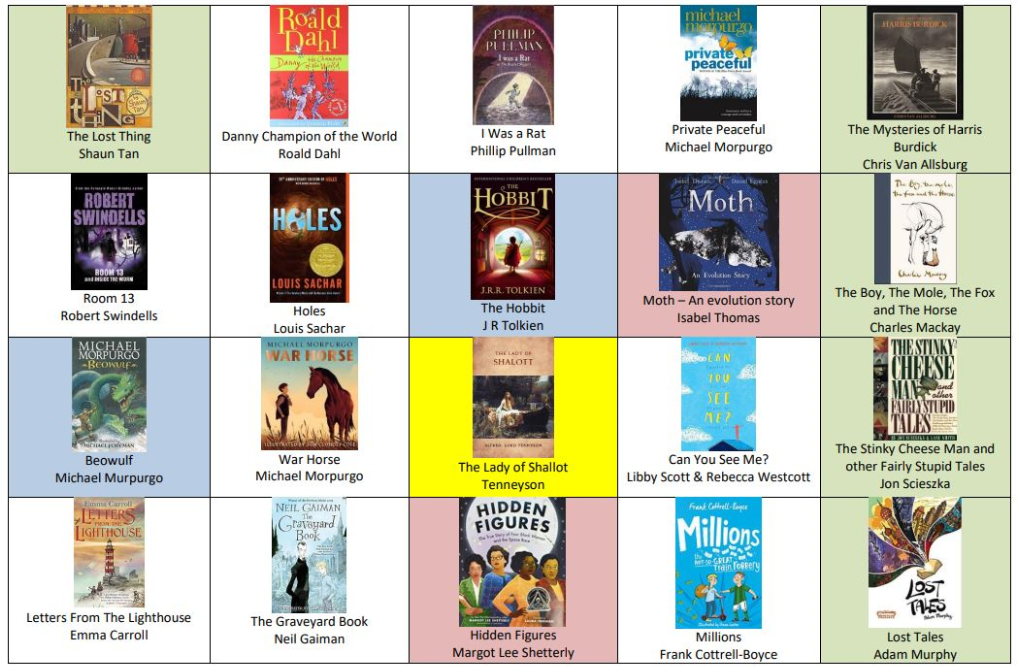 Maths
The main focus of maths teaching in upper Key Stage 2 is to ensure that children extend their understanding of the number system and place value to include larger integers. This should develop the connections that children make between multiplication and division with fractions, decimals, percentages and ratio.
At this stage, children should develop their ability to solve a wider range of problems using both written and mental methods of calculation. With this grounding in arithmetic, children will learn the language of algebra as a means for solving a variety of problems. In geometry, Year 6 will learn to classify shapes with complex properties and will learn the vocabulary they need to describe them.
By the end of Year 6, children should be fluent in written methods for all four operations, including long division and multiplication, and in working with fractions, decimals, and percentages. They should be able to read, spell, and pronounce mathematical vocabulary correctly.
If you want to see how Year 6 at Holgate are taught to apply different calculation techniques in maths, click here to view videos support guides.
The Wider Curriculum
We teach our wider curriculum through a mix of discreet (stand-alone) sessions and those taught through the curriculum vehicle. For more information on our Curriculum Offer, please visit our Curriculum pages.
During the school closures, we know that your children will be spending more time online, is important to make sure your child remains safe online - look through our guide for ways to support your child's online safety.
If your child is struggling to make sense of the current situation, sharing our social story or one of these ebooks may help: